The Pre-Opening Report from Disneyland: What's On Disney+
I am going to guess many of us have Disney+. If you don't, this series may entice you to subscribe. No, I am not a shill for Disney+, however, I think people are missing the value of what people in the music industry would call Deep Cuts. A term referring to not often seen or listened to Gems.
This Articles Selection
The Pre-Opening Report from Disneyland (released July 10, 1955 in Black and White)
First thing to point out is the date this aired which was a week before Disneyland opened. While the quality is kind of grainy, this was released for the Disneyland Show. It even has the advertisers! I also suggest you stay and watch the very end to see what the giveaway was and the sponsor.  I am going to leave those as a surprise for you all. I laughed out loud when I saw those. For those of you my age (which I think is one of you), you will enjoy that.
The show is narrated by Winston Hibler, with a cameo. For me, growing up, Winston Hibler, a Disney Legend, was the voice of Disney narration. His diction, clear pronunciation with a touch of empathy carried you with him throughout his topic. Whether it was Disneyland, or one of the many wildlife shows, his voice is a solid, memorable sound I immediately associate with Disney.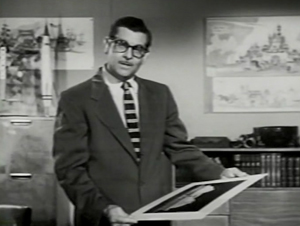 The first half of this release is a review of what people are to expect at Disneyland. They even show how they created the indigenous tribe on Jungle Cruise. Fess Parker and Buddy Ebson also have cameos in Frontierland.
Construction of paddle wheels, trains, boats, even the moon are all reviewed in this short subject. They also have a drive on the California Freeways. Since I grew up there, it was a walk down memory lane for me.  After the update of the park that changed the world, Walt narrates a bit on Mickey Mouse. It is here he makes his famous remark giving Mickey his due, I hope everyone remembers it was all started by a Mouse.
Plane Crazy, Lonesome Ghosts, Sorcerer Apprentice all are nipped and tucked to fill the full hour of the TV show.  This was a common trick the Disney Studios used to fill time on the Sunday Night show. Disney was prolific at animated shorts and the ability to cut and paste them to fill time allowed for a zero cost method of entertainment since these shorts had already been released.
YouTube has a version it calls the complete episode, but it isn't. It lacks the advertisers and the last 30 minutes of the program which are the MM shorts.
I highly recommend this deep dive. The background, history, and just overall jump back in time is well worth the hour, and remember, it all was started by a Mouse!