Joyce Carlson, Another Disney Legend
Joyce Carlson started with the Walt Disney Company in 1944 working in what was called the Traffic Department. The Traffic Department supplied all other departments with their needs. Pencils, paint, brushes even coffee was delivered to the animators. It was a good place for an employee to scout the creative development process before choosing a career. 6 months later, Joyce was working in the Ink and Paint department. Some of the projects she contributed to were Victory Through Air Power, The Three Caballeros, Cinderella, Peter Pan, Sleeping Beauty. Her education path took her through the Chicago Art Institute, USC, Chouinard Art Institute (now CalArts).
As copy technology grew, the need for Ink and Paint diminished. Joyce transferred to WED Enterprises (Now Walt Disney Engineering) in 1962.  Her last Ink and Paint project would be 101 Dalmatians. Working in the model shop, Joyce grew her talents contributing to models for the Progressland Pavilion and Carousel of Progress. Joyce shared how she used a colleagues earrings as models for lamps and decor. The project that she is most well known for would be the It's a Small World project. Working side by side with other Disney Legends like Mary Blair and Marc Davis, Joyce's artistic influence would help usher in one of Disney's most iconic attractions. Walt send Joyce to New York to install the It's a Small World project for the Fair.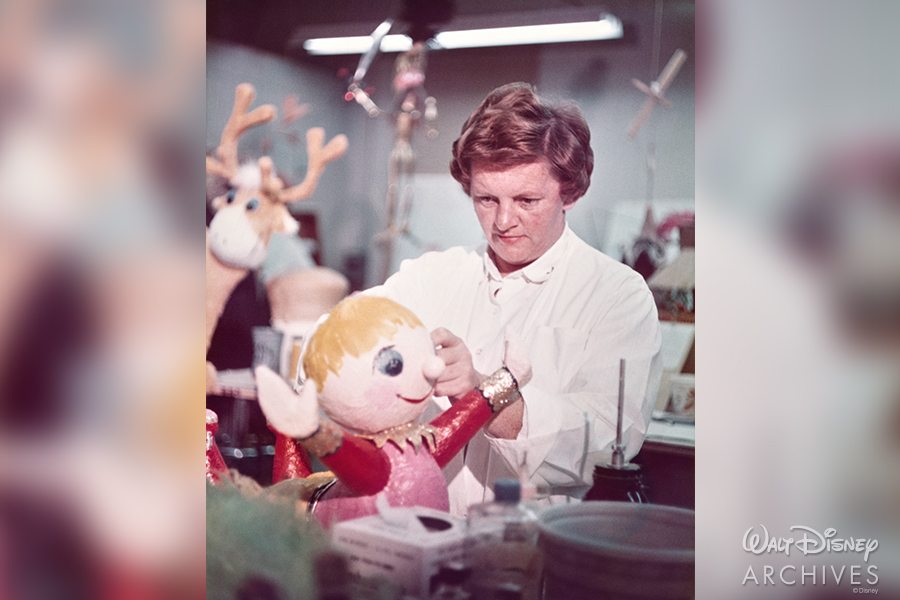 Joyce would adapt It's a Small World for The Magic Kingdom and Tokyo Disneyland. After 56 years, yes, more than half a century of work for the Disney Corporation (The First woman to achieve 50 and 55 years milestones) she retired. Joyce continued to consult and mentor younger artists until 2006. Honored with a window on Main Street USA at the Magic Kingdom, Joyce contributed to the five It's a Small World attractions. 
Joyce Carlson passed in 2008. Creative Force, mentor, Disney Legend.