Magic Behind the Music: Blizzard Beach – Beach Boys ~ Kokomo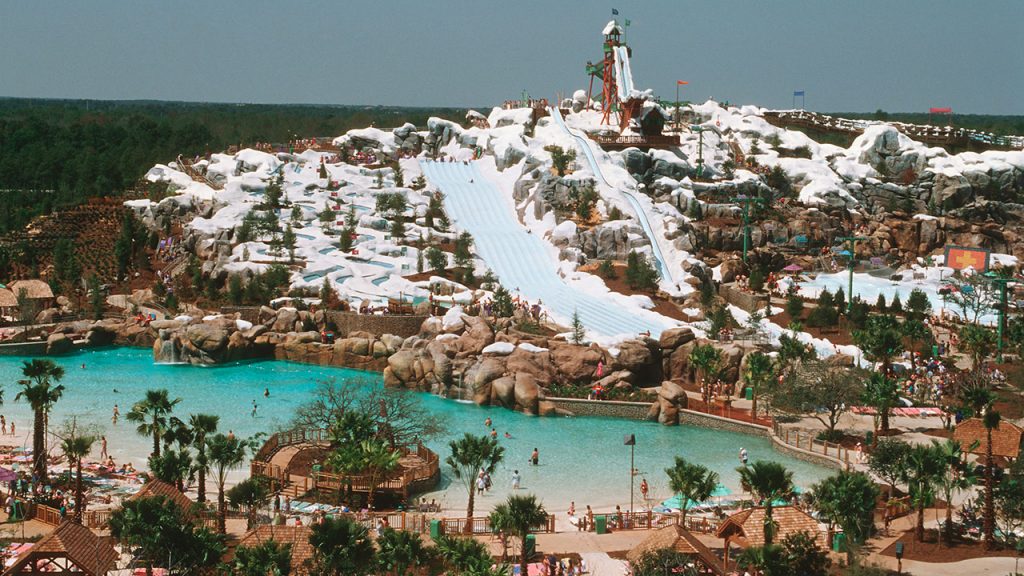 Everybody knows a little place like Kokomo, but there's only one Blizzard Beach and it's at Walt Disney World! Disney legend has it that a freak snow storm hit central Florida and the local Ice Gator capitalized on it by building a ski resort! Of course, as snow does whatever snow does in summer…the ski resort had to be reimagined into a water playground for the Ice Gator to keep the profits rolling in. Thus, Disney's Blizzard Beach opened to resort guests on April 1, 1995 and the crowd it drew in was no April Fool's joke! In fact, it became the 3rd most visited water park in the world! The park is largely comprised of water slides of various shapes and sizes located on "slopes" of varying intensity. The most intense of these slides, and the centerpiece of the park, is Summit Plummet. At 120 feet tall, it is the second-most intense water slide in the world! Guests who are brave enough to climb the steps to the top will get figuratively breathtaking views of Walt Disney World and a literally breathtaking slide to the bottom.
The area music for Blizzard Beach is a feature of the D-COT Jukebox and is made up of various songs with tropical and beach themes. Many of these songs are by artists like Bob Marley, Jimmy Buffett, and The Beach Boys. Kokomo, specifically was added to the Jukebox on August 23, 2012 and is easily one of the most popular tracks for D-COT members who have played it 3,072 times. 56 Members have it as a favorite and Supporters have added it to 9 Custom Playlists. It gets an average rating of 4.7/5 with 36 votes.
Kokomo is one song played at Blizzard Beach that actually has a strong Disney history. It was released on July 18, 1988 as a result of The Beach Boys being contacted to write a theme song for the Touchstone film, "Cocktail" starring Tom Cruise. Disney is the parent company of Touchstone. When it came to filming a music video for the song, The Beach Boys had none other than Disney's newly built Grand Floridian Resort for the background! The video features The Beach Boys singing and playing the song (with John Stamos of "Full House" fame playing drums) interlaced with clips from "Cocktail". In fact, The Beach Boys were the first official guests of the Grand Floridian and Disney gave them new menu items and drink recipes to test while they were there. Since Summer is officially here, now is a great time to drop by the Jukebox for some Blizzard Beach music with songs like this that may be more Disney than they seem!