New McDonald's Happy Meal Toys Based on Walt Disney World Attractions
2020 is shaping up to be a great year for fans of the "new" Mickey Mouse shorts. The first Mickey Mouse ride opened in Disney's Hollywood Studios in March, that ride being Mickey and Minnie's Runaway Railway, and is scheduled to open in Disneyland as well. A new Mickey Mouse series based on the shorts is debuting on Disney+ on November 18, which just so happens to be Mickey and Minnie's birthday. And now, McDonald's has teamed up with Disney!
In an effort to promote Mickey and Minnie's Runaway Railway, new toys will be featured in Happy Meals that feature the classic characters on one of Walt Disney World's classic rides. There are a total of 10 vehicles and they can all attach to form a train. Each vehicle features a character and has some function as it moves along. Some characters spin and some characters bounce as they move. The 10 ride vehicles and characters are listed below.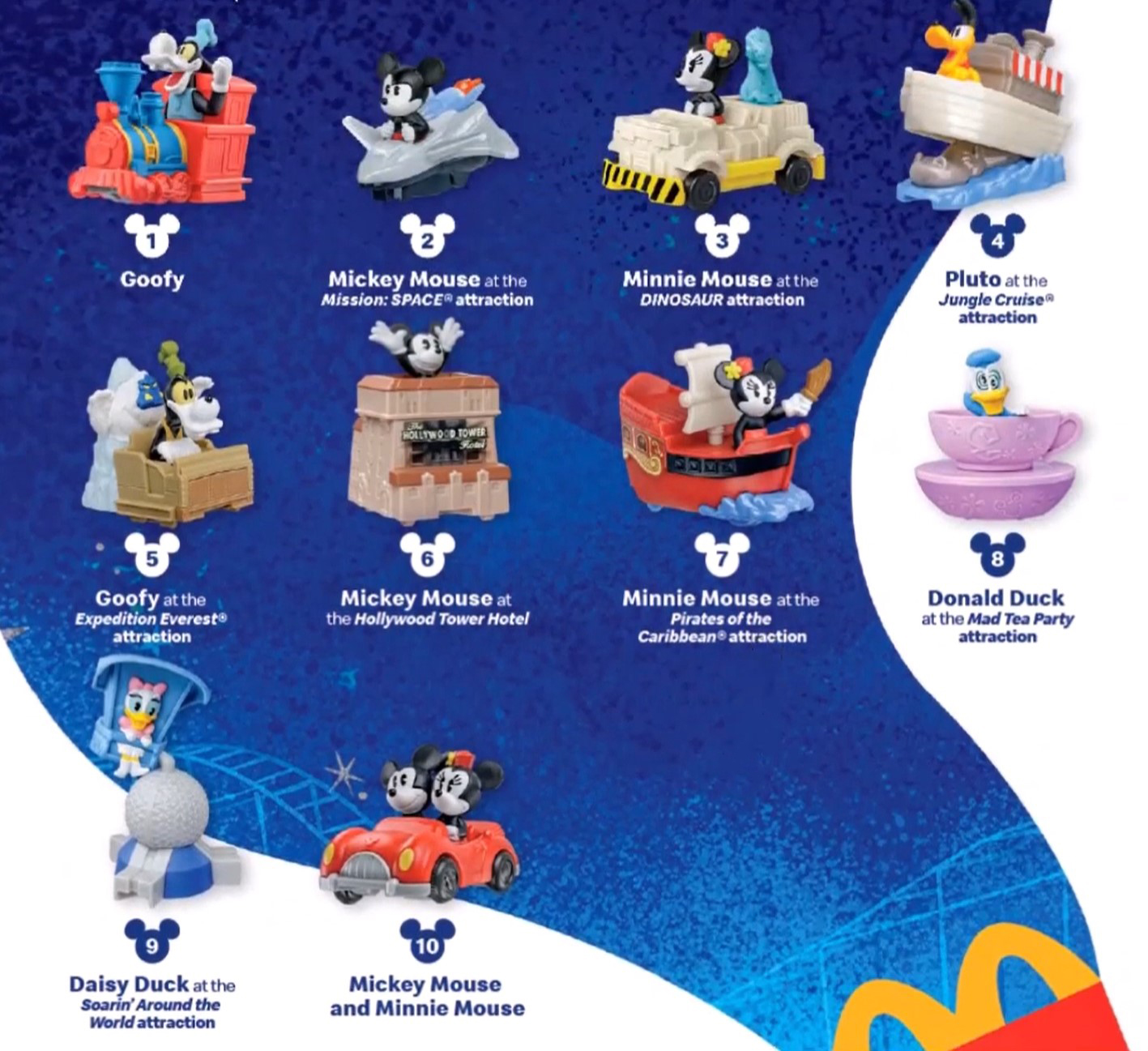 Conductor Goofy in a train
This is most likely a reference to Mickey and Minnie's Runaway Railway, especially considering the toy line is to promote the ride, however one could argue that he is driving the Walt Disney World Railroad.
Mickey and Minnie Mouse
Cruising in Mickey's car from Mickey and Minnie's Runaway Railway
Mickey Mouse in the X-2 Space Shuttle from Mission: SPACE
Mickey Mouse in the Hollywood Tower Hotel
The naming here is very specific as the official ride name is "The Twilight Zone Tower of Terror." The Twilight Zone is not a Disney property and, as such, cannot be used by McDonald's.
Minnie Mouse in the pirate ship from Pirates of the Caribbean
Minnie Mouse in the Time Rover from DINOSAUR
Pluto on the Jungle Cruise
Donald Duck at the Mad Tea Party
Daisy Duck on Soarin'
It's labeled as "Around the World" but you can pretend it's over California if you want. This one also features Spaceship Earth!
Goofy on Expedition Everest
The yeti also makes an appearance.
These toys will be available starting November 17, 2020 and will remain available until December 14, 2020 (if supplies last).
McDonald's is also running the "Hop Aboard to Win" sweepstakes. Using codes obtained from the Happy Meal toys, consumers can enter for a chance to win a Walt Disney World vacation for 4! If any of you happen to be on the lookout for these, happy hunting and good luck!