REVIEW: Savi's Workshop
Several D-COTters have been curious lately about the custom lightsaber building experience at

Savi's Workshop

on Batuu. My husband and I recently took part in this adventure on our visit to Black Spire Outpost in October so I thought I would share my recent experience with you all. I'll go over the whole experience but I'll be careful not to give too much away so it's still special for you.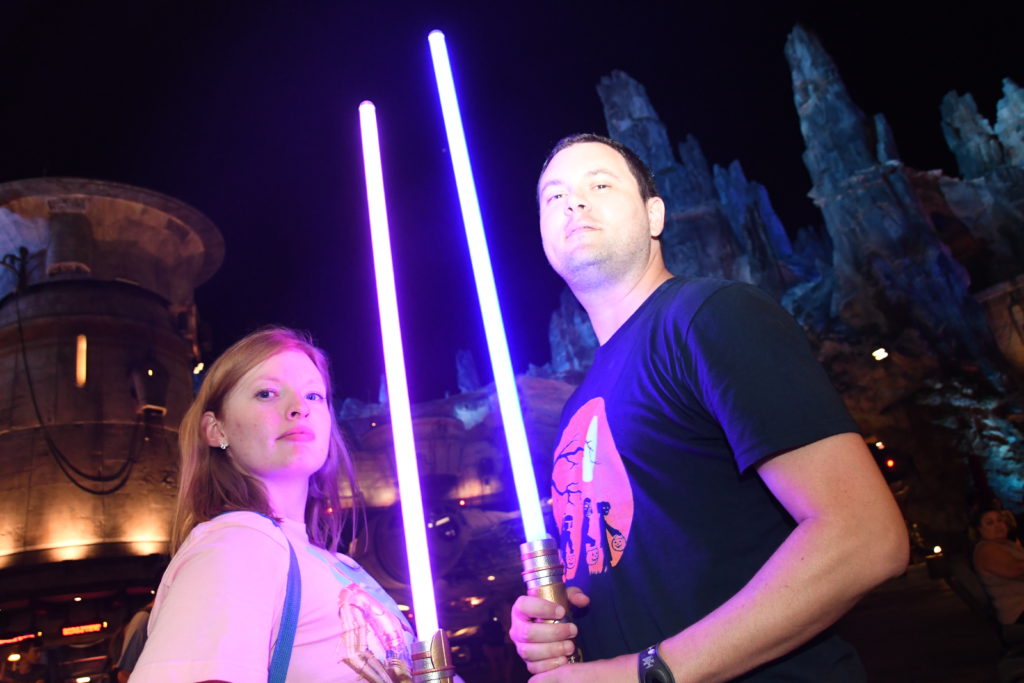 We booked in advance which is highly recommended. We made our reservation two months out, which was the earliest reservations became available at that time (you can now book 180 days out). When we made our reservation, times were already limited with no availability on the day we initially wanted so we chose another day. When it came down to the experience, there were 18 builders in our group with only one walk up accommodated. Keep in mind this was October and there are many months of the year that have much higher crowd levels.
We presented ourselves at the Workshop at our allocated time and got checked in. We were given a "menu" of all the different custom options available and were asked to choose our style and head back to the counter when we had chosen. I did not research anything ahead of time because I wanted to be surprised and I was a little overwhelmed with all the choices! I'm terrible at making decisions!
I decided on Protection and Defense and we went to the counter where they gave us a pin to wear reflecting our style choice and gave us a "building group" card. One non-builder may accompany each builder into the workshop so if you want to watch someone else build a lightsaber you can. Parents can also accompany their child without having to build a lightsaber themselves.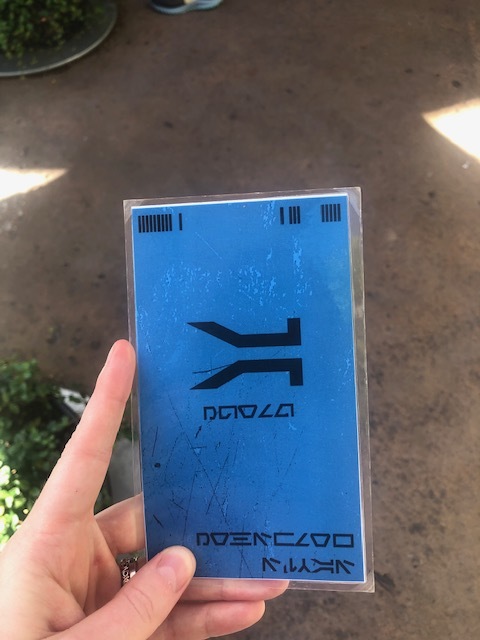 We waited maybe 10 minutes for everyone in the group to arrive and make their choices before heading in to the workshop. Inside we were directed to our building station before our Kembe arrived. He told us about the workshop and the history of the lightsaber. He explained the different meanings behind each style as well as the meaning and history of each colored Kyber crystal.
The Kembe's assistants walked around the room with a box of Kyber crystals for us to pick from. The colors available are: red, blue, green and purple, but there are more colors available for purchase outside of the workshop if you desire. I'll come back to that later. I chose the purple crystal because that's my favorite color. We were then presented with a tray of building options to choose from for making our hilt.
Assistants were on hand to demonstrate and help with the assembly of the hilt. I had a lot of fun choosing the parts for mine! When everyone had finished their hilts, the assistants came to each station to help with the blades. There was kind of a show that took place as the lightsabers were finished and I won't go into detail about that to leave it as a surprise for future builders. All I'll say is I really enjoyed it!
The whole experience took around 30 minutes but allow 45 minutes for the experience in your schedule to get checked in and choose your lightsaber style before you enter the workshop. For those who can't decide on a crystal color, the Kyber crystals can easily be switched out of the lightsaber and you can purchase additional colors for $14.99 each from Dok Ondar's Den of Antiquities on Batuu. The same colors offered at the workshop are available as well as yellow and white. You can also purchase a Holocron ($49.99) to store your Kyber crystals – either Jedi or Sith. The Holocrons light up, make noises and even speak depending on which color crystal is placed inside.
So is it worth it? That's a very subjective question. Obviously the $199 isn't beer money but equally there are other Disney experiences that cost a lot more. If you're a big Star Wars fan who always grew up wishing you had a lightsaber, I think you will love this experience! It's more than just picking up a couple parts, it's an actual experience, with a show, that you control, and it fully immerses you in the world and culture of Star Wars. You are able to make your very own, unique saber that didn't come off a shelf. The product is incredibly high quality and you can tell them apart from their mass produced counterparts. However if you're a more casual Star Wars fan who doesn't know their Sith from their Jedi, this experience may be a little lost on you.
Some other things to note: you can ship the lightsabers home from the park or from your resort for a minimal charge (that's what we did). You can also take your lightsaber home as a carry on item in the padded sheath included in your building experience (we saw other guests do this). Finally, be aware that you will not be permitted on certain rides with your lightsaber so you may want to send them back to your resort room, leave them with a non-rider, or reserve your experience for later in the day when you're done riding.
I am really glad I visited Savi's Workshop to build a lightsaber and I highly recommend it!