The Jungle Cruise
Disney announced the filming of the Live Action Adventure based on the Jungle Cruise ride. Dwayne "The Rock" Johnson and Emily Blunt cast as the headliners. (D23 August 2, 2018 Courtney Potter).
Many attribute this ride as the first adventurous feature.
"Remote rivers through a treacherous jungle. Could something go terribly wrong? Only a Punchline!"
– Steve Martin The Disneyland Story: The First 50 years.
The inspiration of the boats comes from the movie The African Queen. Walt's original idea was live animals, but animals have a mind of their own so Audioanimatronics filled in, and boy did it ever. Many have speculated it was this wish that eventually led to the Animal Kingdom.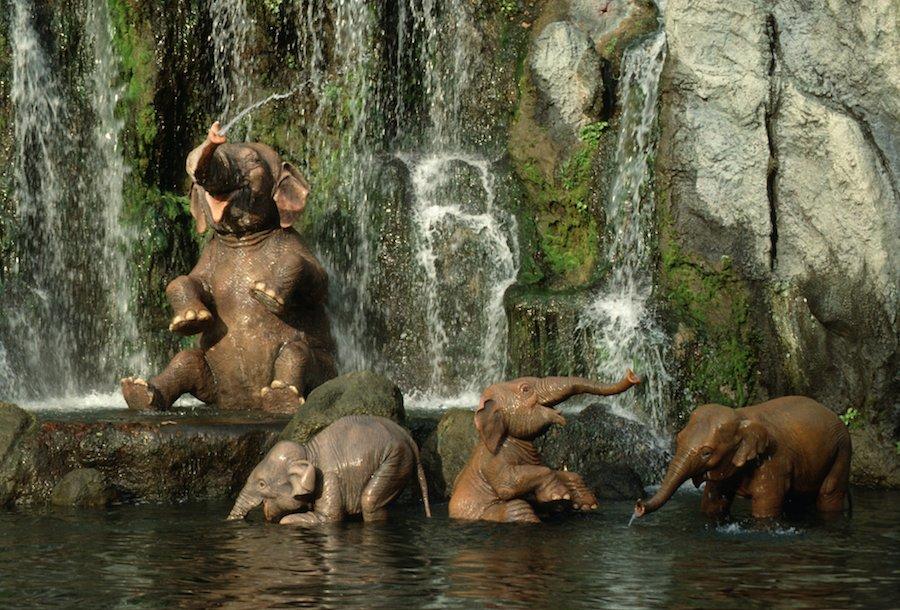 Then we have the witty river guides. The painfully punny repartee is corny, but memorable. Trade Joe made his first animatronic appearance here. He is having a 2 for 1 sale, 2 of his heads, for one of yours….. No matter how you figure, you come out a head……
Whether you are riding the original Jungle Cruise at DLR or the recent inspirations of the Jingle Cruise during the Christmas Holidays, you always make sure this ride is not missed. I have had to ride this one ride at least 200 times, and I smile through the whole trip each and every time.
And like any other historical anthrodisneyist, this ride is absolutely dripping with history. For example, did you know one of the boats actually did sink? Yep, the Sankuru Sadie, but it was salvaged and rides today! At WDW the airplane wreckage is only half a plane. The other half was in the Casablanca scene on the now retired Great Movie Ride.
You could wile away the hours just reading all the little tidbits about the germination and history of this iconic attraction that is as old as Disneyland itself. So I await with baited breath for the release of this new feature from the Disney Entertainment machine.
I only hope that when the exit the boat, the exit the right side, next to the Dock
Source: D23 and the Undercover Tourist