[REVIEW] Roundup Rodeo BBQ – Tasty BBQ Fare Through the Eyes of Andy's Toys
Last Friday, March 24th, 2023, I had a reservation at the brand new table service restaurant at Walt Disney World's Disney's Hollywood Studios. Roundup Rodeo BBQ is a unique and clever way to enjoy some of Disney's better food offerings.
I became an honorary toy! That's right! I discovered what it felt like to be one of Andy's honorary toys. At Roundup Rodeo BBQ, I was surrounded by Andy's rodeo at play––everything from western towns and train station playsets. Take a look…
There are images of popular characters, including a larger-than-life display of Jessie riding on the back of a Trixie pull toy! You can also view a scene of Bo Peep and her sheep posed to perform in the rodeo.
So let's talk about my experience. My reservation time was for 10:45 am which is the first time slot available. I arrived at the restaurant and a Cast Member asked me if I had reservations. I was instructed to check in with My Disney Experience.
After checking in I waited at the outdoor seating area.
My name was called around 10:50 am and I was greeted by a cowboy holding a horsey stick, or whatever you call them. He said if I had any rootin' and tootin' going on that the bathroom is inside on the left. I thought that was funny. He then asked if I wanted to ride the horse to the stable (basically asking if I wanted to ride the horse to the table). I politely declined. Yeah, I know I should have been more fun and rode it.
Upon entering the building there is a very large sheriff badge welcoming me to the rodeo.
I made my way to the right which is where the main dining hall is. My jaw dropped. It looks nothing like the video Disney Parks posted. It's HUGE! It's one big open dining hall but with slight separations with the toys.
I was taken to my table and then immediately stood up and started walking around to take photos of the place. Remember, this was the first time slot so the place was empty!
The host provides you with a menu, a quiz and some colored pencils. That's right. A quiz! There are 10 questions on it about Toy Story and some of these are difficult! I didn't get a lot of them. Don't worry though, the answers are on the back.
Also on the back is a place for you to draw your favorite toy. I thought this was a really fun way to pass the time.
My server's name was Bryon (I kept seeing Byron, but cool way to spell it nonetheless). He had a booming voice so all the other Guests could hear what he was telling me. It was a little uncomfortable, but he was jolly so that's cool.
He explained how the food is served which is family-style. You can ask for more if you'd like once you finish. For my refreshment I chose the Grown-up PB&J. Michelle and I love the PB&J drink from the Tune-in Lounge (which they don't do anymore). It was delicious!
The plates are such a fun idea. Check this out… they look like your typical paper plates, but they are not made from paper.
For starters you get all three salads and the bread service comes out at the same time. The salads are:
Rootin' Tootin Tomato Salad: Cucumbers, Pickled Red Onion, White Balsamic Vinaigrette (Plant-based)
Rex's Romaine and Kale Salad: Apples, Dried Cranberries, Pumpkin Seeds, Green Goddess Dressing
Wheezy's Watermelon Salad: Fresh-torn Mint (Plant-based)
I will rank these salads from best-to-least best. Tomato Salad, Kale Salad and Watermelon Salad. The tomato salad has some delicious pickled onions, the kale salad reminded me of a Ceaser salad and the watermelon salad was just chunks of watermelon.
The bread service is called The Prospector's Homemade Cheddar Biscuits with Sweet Pepper Jelly. The biscuits reminded me of Red Lobster's and the sweet pepper jelly was a nice compliment.
For the entrée you have a choice of four sides.
I picked: The Married Spuds (Loaded Potato Barrels), Force Field Fried Pickles, Slinky Doooooooooog's Mac & Cheese, and Cowpoke Corn on the Cob (Grilled Street Corn)
When you finish these sides you can ask for more of the same or try something different.
We didn't get to finish the starters and the main course came out. I went with Enjoy a Platter of all the Following House-Smoked Items which comes with Evil Dr. Smoked Ribs | Buttercup's Beef Brisket | There's a Sausage in my Boot – Fire-grilled Pork Sausage | BBQ Chicken – with Style!
The table was small so as you can see it was a tight fit.
The platter was really good. My favorite item from it was the brisket. It was a little dry so make sure you use the sauces they provide. There are three of them: Spicy, Sweet and Classic. I only tried the spicy and it was a nice compliment to the brisket.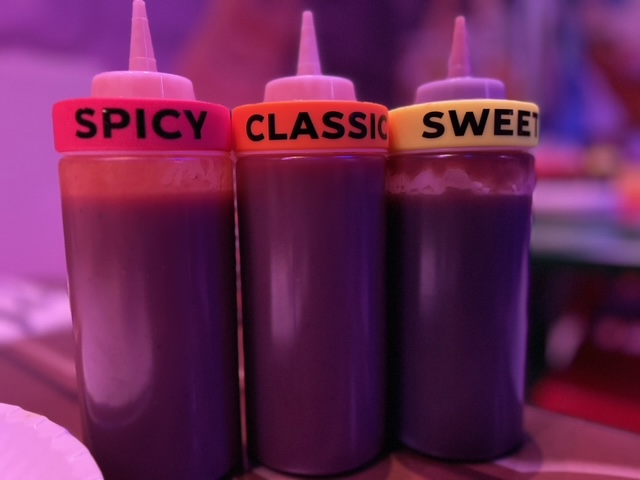 The sausage is presented to look like a curled-up snake. Nice touch. Let's talk about the sides.
We will start with the mac-n-cheese. It was delicious. It was super cheesy and a great pair with the BBQ platter.
Next is the fried pickles. I expected pickle chips but these were fried spears! I liked them.
Next up is the street corn. I love corn but I did not like these. There was too much parmesan cheese on it. I would not get this again.
And last was the tater tots. You can't mess these up. They were drenched in cheese sauce. Yum!
During the experience Sarge would announce things over the loudspeaker. One of them is warning us all that Andy is coming! Since we were shrunk down to the size of a toy we were a part of Andy's play things. Therefore, we had to freeze and stop what we were doing when Andy showed up. It was so much fun to see everyone in the restaurant stop moving and talking. The place went from loud to being able to hear a pin drop.
I was so stuffed and didn't have room for dessert, but you know, I had to have it. I tried the Cupcake à la Forky. It's Gooey Chocolate Cake, Graham Cracker, Buttercream, and a Sugar Cookie. And I tried the Gruff's Peach-Strawberry Pie (plant-based). This is served in a small mason jar. Remember you can keep asking for more if you'd like! And, if you have the room of course.
The price for an adult is $45 and for a child it's $25. In my opinion, it's totally worth this price. If I'm being honest, the price is too good. I wouldn't be surprised if the price doesn't stay like that for long.
So now it was time to pay and sign the receipt. My man Bryon comes out with a huge pencil. It was hilarious!
Overall, Roundup Rodeo BBQ is a whimsical and entertaining table service restaurant. The food is delicious, the staff is fun and the ambiance is colorful and engaging. I would recommend you find a way to grab a reservation at this new table service dining experience. If you need help finding one, reach out to our sponsor Off to Neverland Travel. They will help you with finding one!
Fun Facts
There are 14 hidden Mickeys
There is one hidden Oswald
Partysaurus Rex announces a quick little dance party (get up and shake it!)
Sarge announces that Andy's coming. Make sure you quiet down and sit still!
Don't be shy. Ask for more food!