Animal Kingdom
No….. not the park, the whole Animal Kingdom. Did you know, that we are celebrating 25 years of the Disney Conservation Fund (established on Earth Day)? And, did you know, we are celebrating 50 Years of Earth Day. And, did you know, Walt Disney beat us all to it? Well, maybe not all, but he was definitely near the forefront in the Media world.
Walt had many interests influencing him as he grew up. He spent much time on a farm and around animals in Marceline. Walt's movie animations of animals took two paths. Anthropomorphic and realistic. For Bambi, Walt brought in animals to the studio for his artists to learn and train on, they way they moved, their quirks, and actions. He repeated this for Lady and the Tramp as well.
Walt decided to elevate and investigate. In 1948 he asked Alfred Milotte and his wife, photographers who lived in Alaska, to shoot footage of the area. This was before Alaska was a State in the US. Walt received footage of everything. Lumberjacks, Fisherman, Railroad Workers, Logging, Wildlife. I wonder if there was a kitchen sink?
Walt sent Alfred a note. "More Seals" and BOOM! Another Disney touch of gold was born. The Milotte's put enough material together to create Seal Island the first True-Life Adventure! Disney Legend Winston Hibler narrated the features and became the voice we all associate with Disney Narration. RKO, the distributor of the studio said nobody would pay to see a movie about seals and would not distribute it.
Walt, using his incredible diplomacy and charisma, spoke with a friend at the Crown Theater in Pasadena California, and ran the movie for a week. This qualified the movie for the Academy Awards, of which Seal Island won!!!!! RKO started clamoring for more, I can't imagine why… :insert Mickey rolleyes here:
13 True Life Adventures were born between 1948 – 1960, winning 8 OSCARS!!!! That is almost a 62% win ratio people. I have to wonder if Seal Island was the inspiration and motivation of Mutual of Omaha's Wild Kingdom, National Geographic, animal visits on The Tonight Show and other wildlife shows that came on television. Today, National Geographic is a part of Disney+ and the content and cinematography is breathtaking. In true Disney fashion, Walt capitalized on the interest and released books as well which can be found all over the secondary market.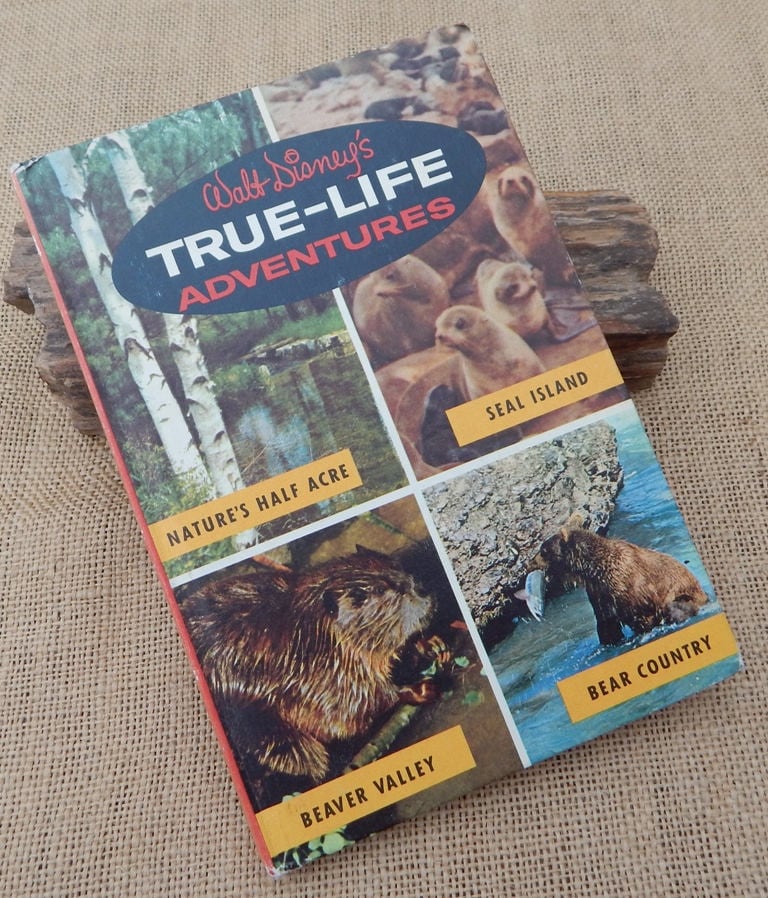 The Disney Corporation has been a proud supporter of the planets ecology since the beginning. Recently, The Walt Disney Studios in collaboration with the Disney Conservation fund created 10 Films. These films generated revenue to support:
65,000 Acres of Savannah in Kenya
495,000 Acres of Forest in China
1,000,000 Acres across Indonesia, Sri Lanka, Cambodia
400,000 Acres across the US
3,000,000 Trees planted in Brazil
130,000 Acres in the Congo
40,000 Acres of marine reefs in the Bahamas
This support protects species like Pandas, Marine Wildlife, Snow Leopards, and, the legendary chimpanzees, of Jane Goodall DBE, just to name a few. All in all, Disney has supported the protection of over 315,600,000 acres of land, over 1,000 specific species (countless indirect species). Conservation is a hot topic today (pun intended) and Disney is doing its part to help preserve the balance. Walt Disney Studios is doing its part to increase awareness and provide much needed revenue for these projects. Oh, and whether or not you realize it, you and I are as well. Every time we go to the theater to watch one of the cinematic masterpieces, we contribute to the revenue used to protect the planet. Disney makes all of us Treehuggers!
It is no wonder why Disney created the Animal Kingdom park for all of us to enjoy. To think, it may have all be started with just two words……
More Seals.