[REVIEW] Disney's Animal Kingdom Safety Measures
We were able to grab two previews at Disney's Animal Kingdom. One was from @SEJ101 for a Cast Member Preview and the other was @steve for the Annual Passholder Preview. The following report is a collaboration between the two.
Parking
The first thing we noticed is they are socially distancing the parking.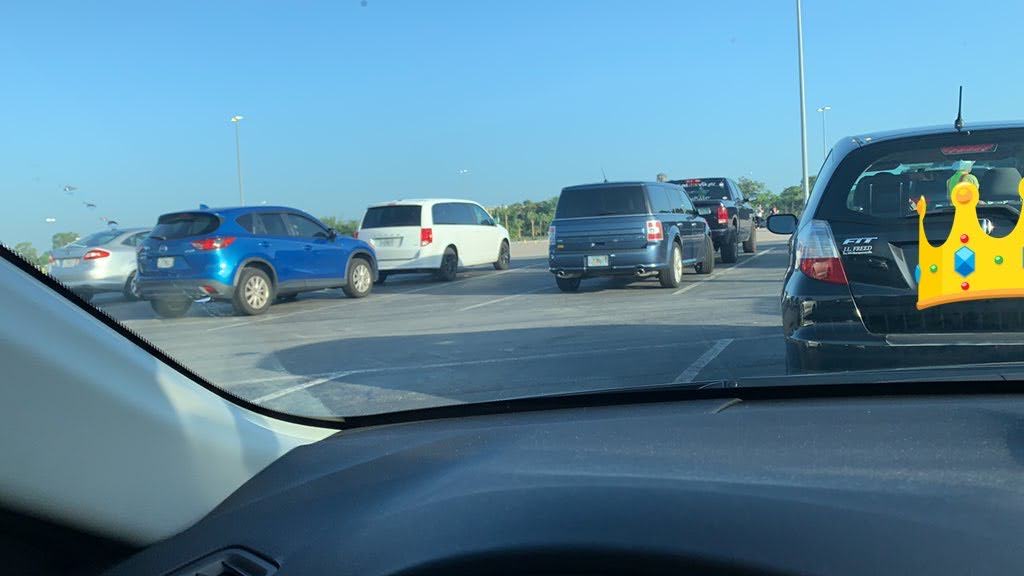 Interesting, right? It was nice being able to get out of the car and not worry about hitting the other Guest's car. We found out later as we were leaving that they do circle back around and park other cars in the open spots.
We exit the vehicle and head to the entrance, figuring we would put the mask on when we got close. Nope! We were instructed to make sure our masks were on at all times by a Cast Member in the parking lot. So, make sure as soon as you start making your way to the park entrance that you have your mask on.
Park Entrance
It is now 8:00am (when the park opened). The process to enter was pretty quick and easy, but that could be because of the low crowds. We can't speak to what it will be like when the park is open to the public.
The first stop is a huge white tent where they take your temperature.
After that we made our way to the new bag check/metal detectors. There is now permanent metal detector structures which allows for a quick pass. This was a great change.
Now it was time for the actual park pass entrance. This was a "private event" but I'm sure the process will be the same. They scanned our Magic Bands with their smart device and it threw a green check mark (similar to the FastPass+) and we was able to enter. No touch-points and no finger scans. We imagine since Guests have to make park selections in advance that it is hooked into their MyDisneyExperience and using their MagicBand or card will do the trick.
Around the park you will see signage reminding Guests to keep healthy and safe. Each garbage can is propped open so you can avoid contact.
Guests will find sanitizer stations all throughout the park, especially before, during and exiting all attractions.
Interactive areas are marked with "Please Do Not Touch" stickers.
Closed Attractions
All live shows are currently not operating with the exception of the Animation Experience at Conservation Station. This includes Finding Nemo – The Musical, UP! A Great Bird Adventure, and Festival of the Lion King. Despite its temporary closure, Festival of the Lion King's queue is full of social distancing markers.
Touch heavy attractions have been shut-down temporarily, including Affection Section and the Boneyard. Primeval Whirl is also not operating as it is a seasonal attraction. The ride has even been removed from park maps.
Expedition Everast
Besides social distancing in the queue, each load area has a plastic partition.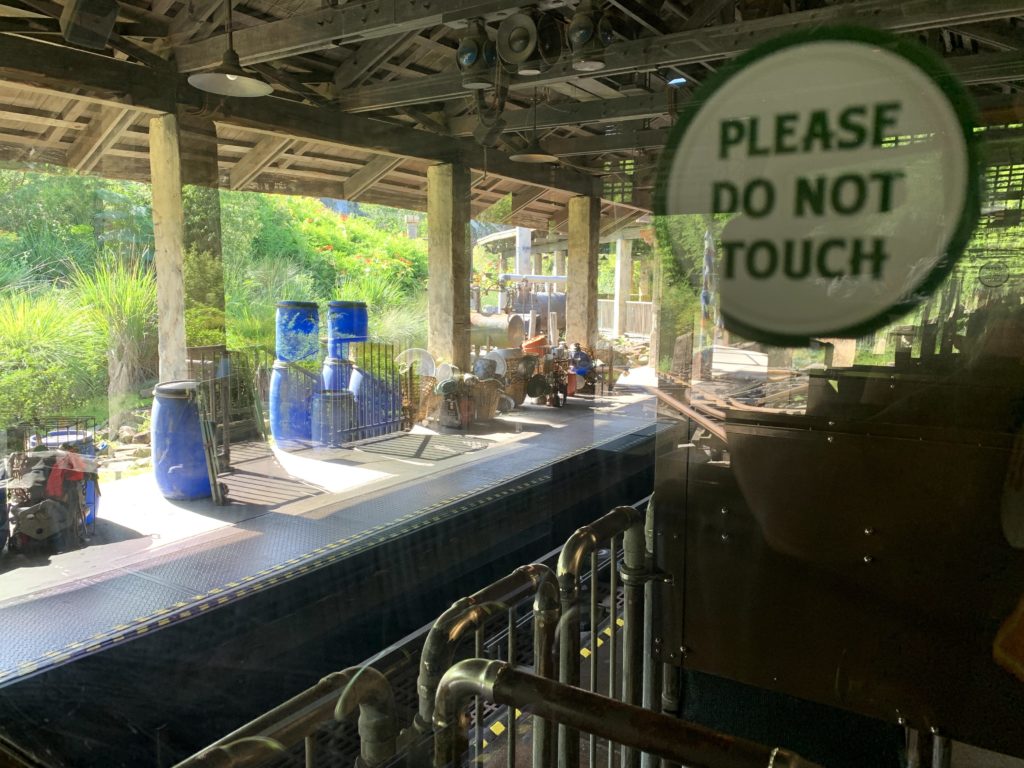 Flight of Passage
Our mission was to see how long it would take to get on Flight of Passage after the initial opening. 5 minutes. It was actually longer than that because we had to walk the entire stand-by queue. Not only that, but that queue now stretches all the way into Pandora. How do we know that? Because there was social distancing markers everywhere. From start to pre-show, it was more like 15 minutes.
Changes to the Queue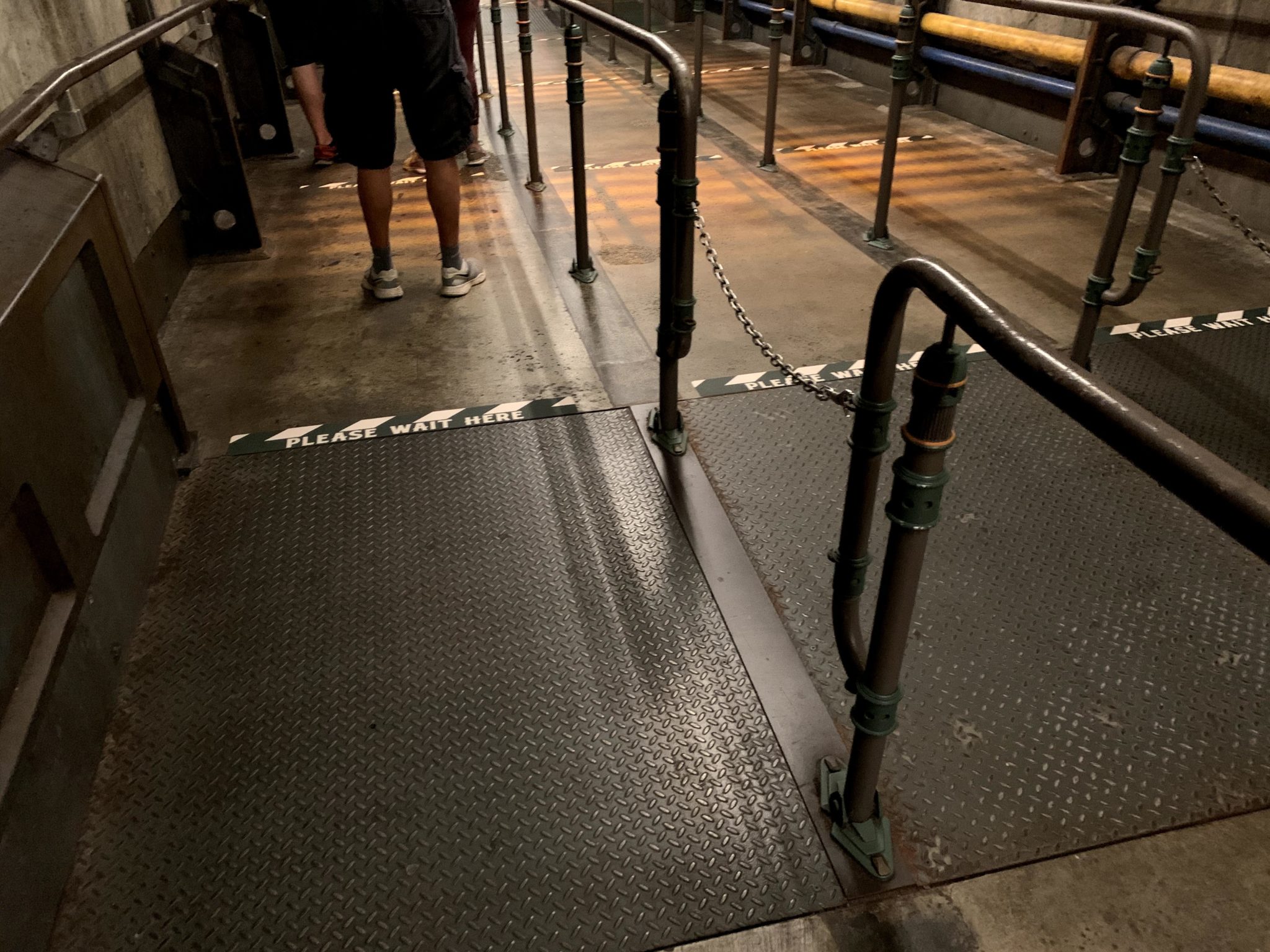 After making your way through the queue and entering the pre-show, 3-D glasses are handed to the party. The pre-show is totally different. Guests no longer get "linked" in the first pre-show room. That room and the next room are the same video. Guests are placed on a red circle with their party and watch the same video. Guests and their party will be grouped together on a Banshee with one unit separating their party from the next. There is a new linking segment but it's done while on the Banshee. Be prepared for lots of (minimal) vibrations.
On-Ride
The wind effects are still on, providing a nice cool down and dry for our masks. The mist and smells were not operating during the Cast Member Preview. They were, however, working at the Annual Passholder Preview.
Na'avi River
Besides social distancing in the queue, there is nothing much new to report here except that there is one boat per party.
Kilimanjaro Safaris
There is nothing much different here except plastic partitions in each row of the vehicle which allows Guests to use each row.
At the conclusion of the safari, each vehicle is cleaned which is great, but causes a delay is disembarking. Check out the traffic jam.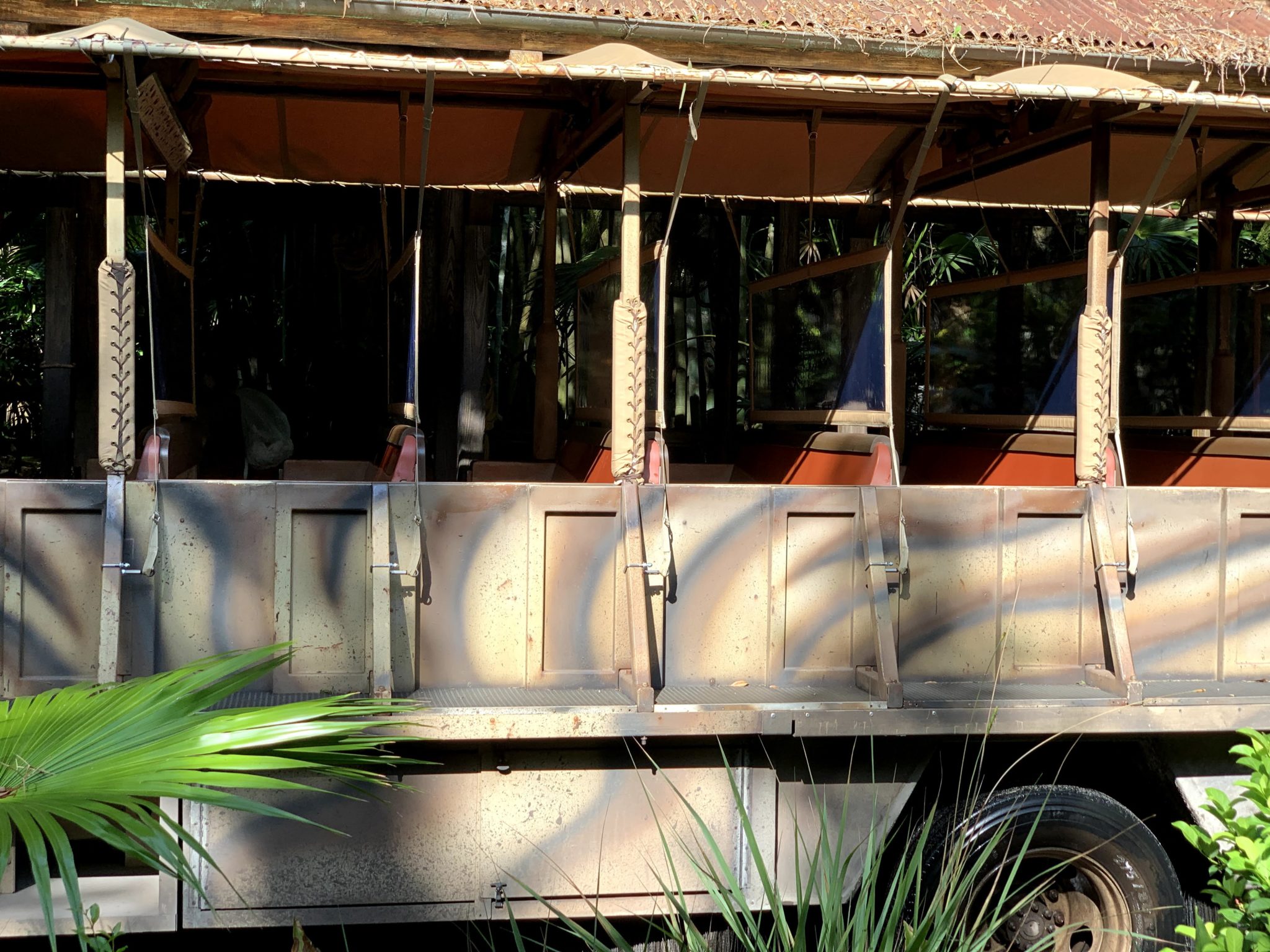 It's Tough to Be a Bug!
In the waiting area inside the tree you are placed in groups of four or less on green dots. Once you enter the auditorium you will see that for every four seats there are three left empty, marked appropriately. Each show will now have around 130 people per show. The show will be a little less loud as a result and quite possibly less entertaining. The water effects were also turned off during the Termite-ator segment. All air puffs and even the stinkbug smell were still operational (the mask cannot protect you from that stench!).
TriceraTop Spin
There is really nothing new here as each ride vehicle can be used since they are far enough apart.
Dinosaur
The pre-show uses the same green dots used in Flight of Passage and It's Tough to be a Bug! for each group.
The ride vehicles have a plastic partition allowing for the use of all rows if needed for those Guests with a party of eight or less.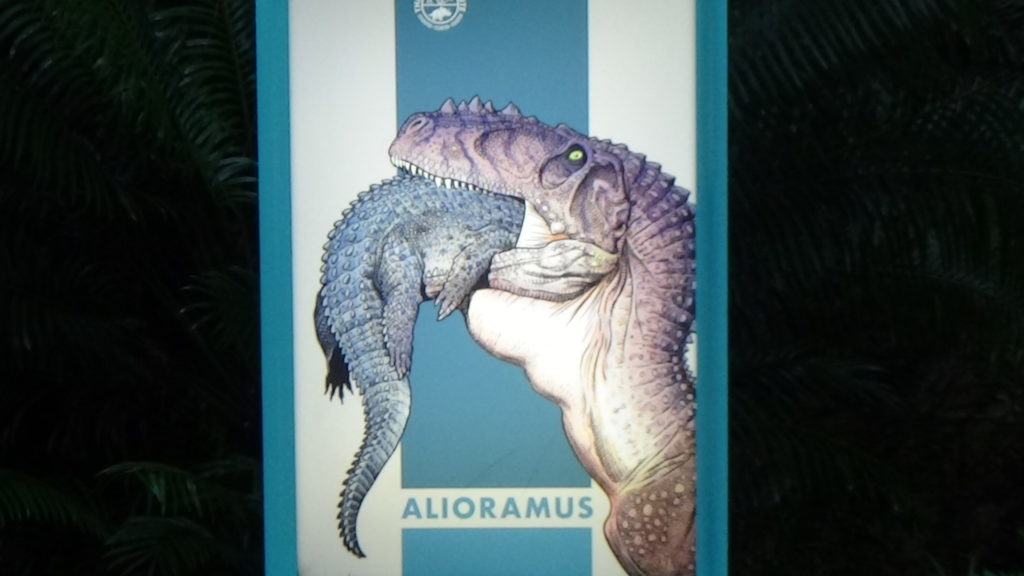 Kali River Rapids
The only significant change here is that groups are separated by every other pair of seats. Depending on party size, this could mean you get an entire raft to yourselves.
Rafiki's Planet Watch
Green dots are used again in the station while parties wait for the train. Once the train does come, Cast Members open up the gates and direct you to a specific car. We were also instructed to sit in the back row specifically and we could not sit in the "intersections."
Once at Conservation Station, several outdoor seats are marked off. Affection Section is closed, however you can still view the goats and other animals inside. Conservation Station is still allowing animal viewing and the Animation Experience is still running. Changes here include socially distanced seating and a new roster of characters to draw (we drew Dumbo). Once the show is over, the animator for the class dismisses specific seats at a time to allow for appropriate distancing. Guests return the clipboard used for cleaning and keep their pencil and drawing. Previously, guests were not allowed to remove the pencils from the space.
Animal Trails
Both Gorilla Falls Exploration Trail and Maharajah Jungle Trek are operational. Trek guides and bird spotting boards have been removed. There are social distancing reminders and occasional directional arrows, as well as animal experts to enforce these. The animal experts also don't have as many people to talk to, so we had several experts share some cool facts with us as we observed the animals.
Any monkey habitats with open viewing for guests to get up close had additional ropes in front of the wires "for the safety of the primates." Ropes were also in front of several glass viewing windows. The research centre in Gorilla Falls is entirely roped off, simply being used as an extra layer of security for the next-door aviary. Several of the animals are missing as well, including lizards, frogs, and tortoises. The gorillas at Gorilla Falls also have a social distance queue as well as green spots for viewing due to the popularity of these animals.
Over at Maharajah Jungle Trek, the only change specific to this location we found was in the aviary. Typically, the doors in lead into piles of chains to prevent birds from escaping. These chains were all cut to reduce exposure.
Wilderness Explorers
We did not do too much Wilderness Explorers, but we have a pretty solid idea of how it works. Several locations have been moved to accommodate closed attractions, such as the badge inside the Boneyard. Several activities have also been heavily modified due to their reliance on several factors. Some badges have elements shut off to prevent crowding or one party is allowed in a specific area at a time. Others have to be conversation only because they rely on lost elements such as trek guides.
Each stand has a queue marker on the ground and the interactions are done several feet away from the stand for the Cast Member's safety. Once you complete the activity, badge stickers are now on a clipboard at each location. The Cast Member stands back and you put the badge on yourself. Previously, the Cast Members would do it themselves.
Character Experiences
Since meet and greets have been removed, several characters now appear randomly on boats in the waterways of the parks. We only saw a few of these as they are completely random. They can only be seen from half of the walkways, so the chances of seeing them aren't too high. This may seem like it might be a poor quality experience, however we were delighted and surprised to see them when we did.
Relaxation Stations
There are two Relaxation Stations throughout the park. One is at Pizzafari, the other is located at the dock across from UP! A Great Bird Adventure. These stations allow you to take a break from the sun and remove your mask. Each one has a maximum capacity. If this happens, you will be redirected to the nearest location. There is no time limit so feel free to stay as long as you'd like.
Mobile Ordering
Guests are required to use mobile ordering for all quick services. You will not be let in if you do not have proof that your order is ready. If you do not have the MyDisneyExperience app, you can scan a QR code at each location that will bring up the Disney website for you to order.
Other quick services that do not have mobile ordering such as Pongu Pongu or Tamu Tamu Refreshments still have face-to-face interactions, however a Plexiglas divider separates you from the Cast Member at the register.
No FastPass+
Guests only have the option to do stand-by. We asked Guest Information on how they plan to keep the wait times minimum and the answer we received was by limiting capacity to the parks. It's possible FastPass+ may be an up-charge in the future, as Shanghai Disneyland has recently rolled that out in their socially distanced park, but given the current crowd levels, it is unlikely.
Gift shops
Several merchandising carts are closed throughout the park and a few of the actual shops are closed. For the ones that are open, there is typically one specific entrance only and one exit only. Cast Members are located at each entrance and exit as well as throughout the store to ensure guests are following the rules and appropriately spaced out.
Overall, is it safe?
That entirely depends on guest behavior. Hand sanitizer is frequent throughout the park, however it is not required. Cast Members are quick to enforce any rules they see not being followed, be it no masks or inappropriate social distancing. Rides are also being sanitized often. Everyone has to do their part. This experience may seem safe to some and it may seem dangerous to others. We personally had a great time and would head back again if given the opportunity. However, if this is your first trip to the parks, we would recommend postponing it so you can receive the fullest experience with live shows and proper Flight of Passage pre-show storytelling.
In case you wanted to see more images and videos and get a better feel for how everything looks, check out D-COT on Twitter, Facebook and YouTube. Also be sure to check out SEJ101 on YouTube and Facebook.
Check out this video from SEJ101.