The Lost Land
Did you ever hear the one about Holidayland? After the initial build, Walt asked around what people might be interested in. A gold plated picnic grounds area was one of thing people wanted. Thus a turn of the century 9 acre picnic grounds area was created, and was quite popular for Corporate Events. At least for a time…..
Essentially, this is the area corporations used when having a special day at Disneyland. Large corporations used to pay for passes in bulk and people would have a day at Disney. The park wasn't open 7 days a week like today and these large corporations were able to get the park to themselves for their employees and families for the day.
Often referred to as the Lost Land, Holidayland had baseball fields, playgrounds, volleyball courts, horseshoes and the largest candy striped picnic tent (repurposed Mickey Mouse Club circus tent). Disney Legend Milt Albright was the opening day manager of Holiday Land. Disneyland Secrets, Stories and Magic (available on YouTube) covers briefly with Milt about Holidayland with some video snip-its. He jokes of having the honor (or dishonor in his words) of being the manager of the only land that failed! No reflection on you Milt, you're a Disney Legend!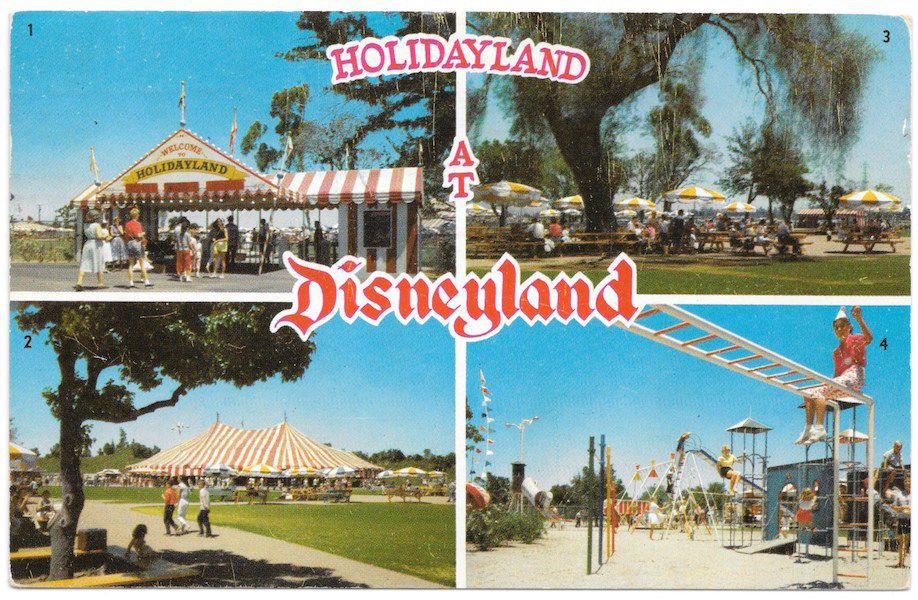 No real shade, no restrooms in the area, and no lights contributed to the demise of this land. Holidayland only lasted about 4 years (6/1957 to 9/1961), but the legend of the Lost Land resides in the memories of the Disneyphiles everywhere. Today, the land is used for facilities, and even parts of the Haunted Mansion resides on where Holidayland was. I wonder if the ghost of Holidayland resides within the Haunted Mansion? Hmmmm, I smell pie…….