The Best Halloween Treats at Walt Disney World This Year
September is here and you know what that means… pumpkin spice is everywhere! 🎃 Walt Disney World Resort is bringing back its highly-anticipated yummy fall eats and treats! You can enjoy all the delights from pumpkin spice to apple to cinnamon. You can find these wonderful offerings all around Walt Disney World's four parks. We are going to share with you our favorites.
Mickey Pumpkin Premium Popcorn Bucket
Wouldn't you agree that popcorn tastes so much better in a souvenir bucket? Especially when it's a pumpkin Mickey! Available at popcorn carts throughout the parks.
Halloween Cupcakes
This edible pumpkin Mickey head that sits atop your choice of vanilla or chocolate will only be available at Sunshine Seasons in Epcot on Oct. 31.
Box of Bones Chocolate Eclair
Who doesn't love this classic French dessert? This chocolate eclair gets a spooky makeover filled with dark chocolate mousse and dotted with white chocolate bones. You can find this treat at the Backlot Express in Hollywood Studios. 
Frozen Apple Cider
We love a good apple cider, hot or cold. This one comes frozen and with your choice to make this festive drink boozy with Crown Royal Regal Apple or not. Available in Hollywood Studios.
Pumpkin Spice Milkshake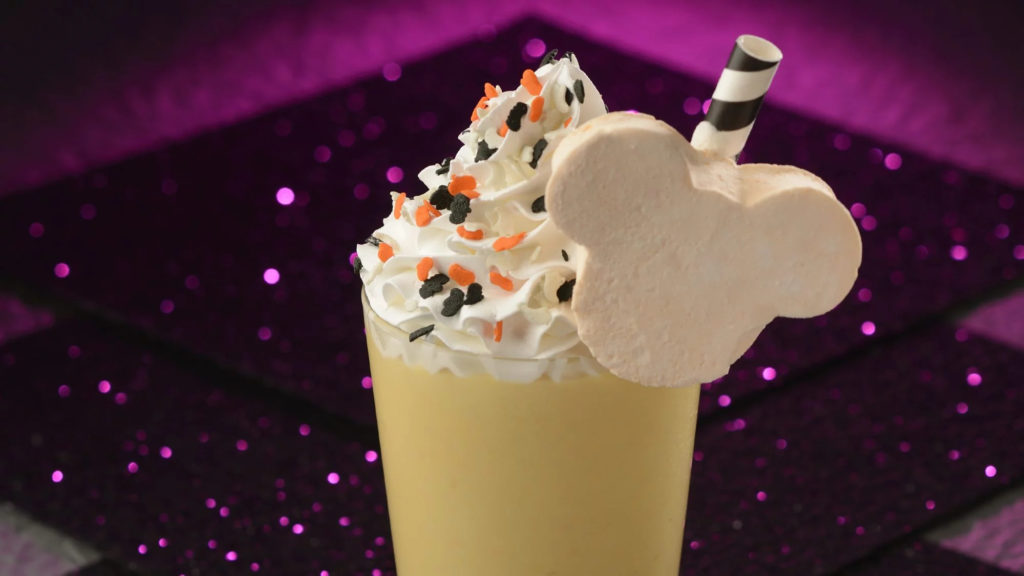 Blended with pumpkin pie spices and topped with whipped cream, warm caramel sauce, sprinkles, and a Mickey Mouse-shaped marshmallow straw, nothing screams fall quite like this shake. Available at Auntie Gravity's Galactic Goodies in the Magic Kingdom.
Pumpkin Spice Soft Serve Sundae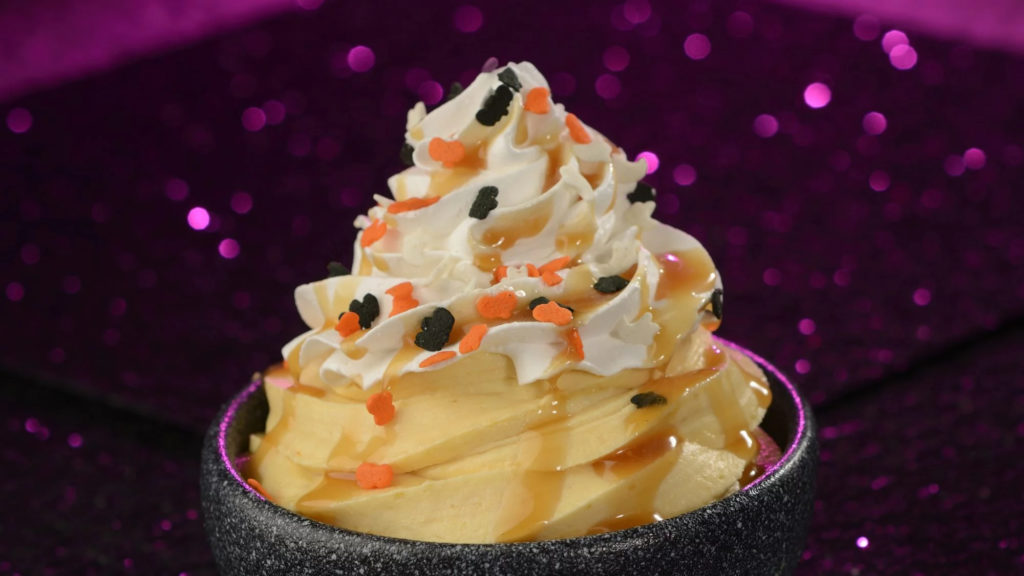 While you're at Auntie Gravity's Galactic Goodies, pick up this sundae! Similar to the pumpkin spice milkshake, this creamy soft serve is also topped with whipped cream, black and orange Halloween sprinkles, and a drizzle of caramel sauce. Yummers!
Mickey Cinnamon Roll
Don't you love the smell when walking by the Main Street Bakery? While you're enjoying a breezy evening in the Magic Kingdom, top it off with a Mickey Mouse cinnamon roll that's drizzled with orange and white icing.
Pumpkin Spiced Waffle Sundae
Last week we posted our favorite snack at Sleepy Hollow in the Magic Kingdom, the Spicy Chicken and Waffle Sandwich.
But, during this special time, we need to try this spook-tacular sundae! It comes with vanilla ice cream topped with caramel sauce, whipped cream, black and orange Halloween sprinkles, and finished off with two pumpkin-flavored Mickey Mouse waffles.
What treat would you like to try this Halloween season?