2019 Festival of the Holidays Food Booths – The Best of the Fest
A look at some of the standouts from this year's Festival of the Holidays food booths.
Hello everyone! It's been a while since my last article, but don't fret, today I'm back to talk all about "the best of the fest," from Epcot's Festival of the Holidays food booths. I should mention though, that I haven't been to the festival this year, so this is really a list of what items stand out the most to me, and maybe give you some ideas on what you want to try if you'll be in Epcot this month!
Frozen Hot Chocolate Martini
This yummy adult beverage is Grey Goose vanilla vodka and chocolate milk blended together with ice to create the perfect slush. You can find it at the "Le Marche De Noel Holiday Kitchen," which is in the France pavilion for $10.75. I'm dying to try this – what could be better than what is basically an alcoholic chocolate milk?
Pork Schnitzel with Mushroom Sauce and Spaetzle
Biergarten is one of my favorite restaurants in Disney World, so of course this savory German dish made my list – I mean, my mouth is watering just looking at it! The schnitzel costs $6.25, but if you're on the dining plan you can use it as a snack credit. It can be found at the "Bavaria Holiday Kitchen Booth," which, obviously, is in the Germany pavilion.
Shipyard Candy Cane Coffee Porter
First let me just say, I don't like beer. I think it tastes gross, it makes me bloat, and I would rather sip on some kind of fruity cocktail. HOWEVER, while looking at the festival menus, this caught my attention. A beer that tastes like candy cane coffee?! Who knew such a thing even existed?! I know it doesn't exactly sound appetizing, but it makes my list just because I have a feeling you'll never get to try something like this anywhere else. It costs $4.50, and is at the "Prost!" booth in Germany.
Matcha Crème Brûlée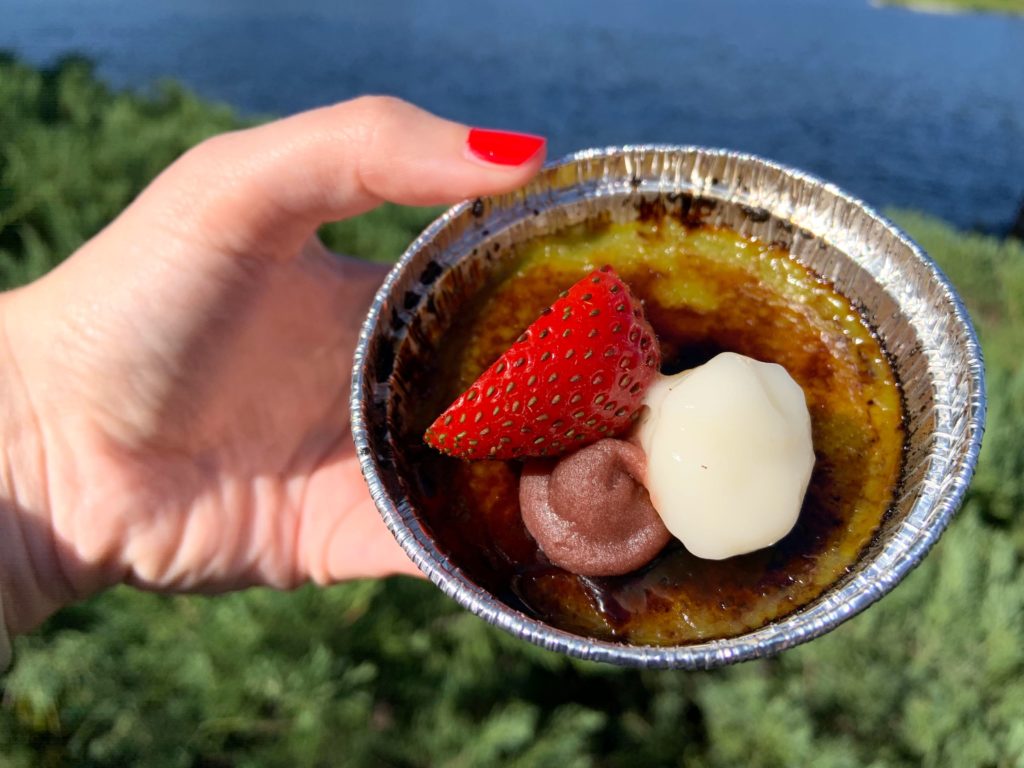 This Japanese twist on the classic French dessert is a green tea custard with the traditional caramelized sugar crust, that is then topped with mochi, red bean jam, and a strawberry. Everything about this sounds sooo good! I'm a huge crème brûlée fan, and I think it would be really interesting to try this Japanese version. You can find this dessert at the "Shi Wasu Holiday Kitchen" for $5.75 and it's eligible as a snack credit.
Pastrami on Rye with Pickles and Mustard
I know you're saying to yourself, "What's so special about a pastrami sandwich? I can get that anywhere!" and you're right. HOWEVER, this made my list because one of my favorite Disney vloggers, Michael Kay, said this sandwich was the best thing he had eaten at the festival this year. Also, that rye bread looks unbelievably delicious. This is found at the "L'Chaim!" booth, which is right outside Morocco. It's $5 which I admit is a little pricey for a tiny sandwich, but I hear it's well worth it!
Caramel Stuffed Pretzel
My God, have you ever seen something so beautiful in your life? This salted pretzel is stuffed with warm caramel, and topped with vanilla soft-serve, chocolate sauce, and candy pearls. I have a feeling this blows Tomorrowland's cream cheese pretzel out of the water! You can buy this beauty at the Refreshment Outpost for $8.25, or use it as a snack credit.
So that's my "Best of the Fest," or what I would try if I was going to Epcot anytime soon. Do you agree with me? Have you tried any of these items, and if so, what did you think? Let me know in the comments!